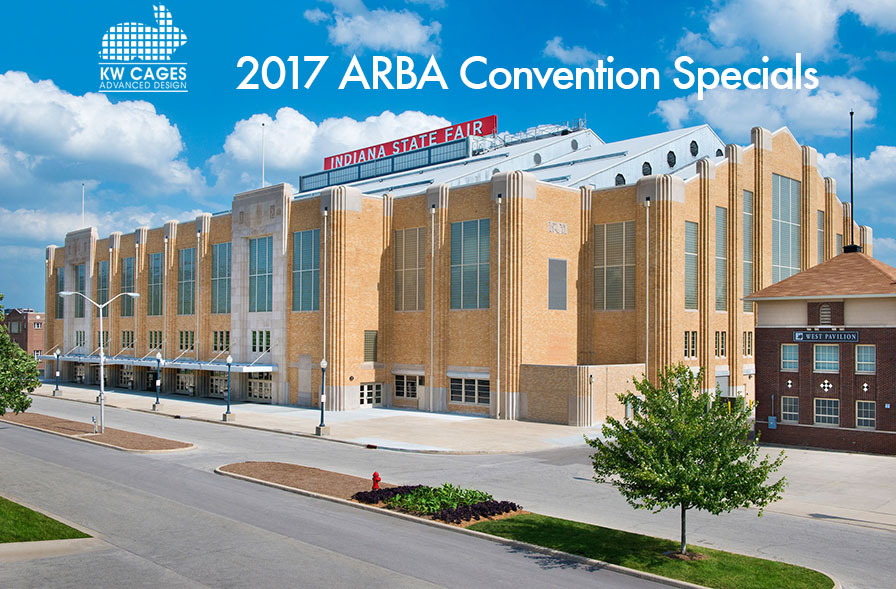 Dont Miss our Huge Display
KW Cages will have their spectacular display at Indy! This will be our 35th consecutive ARBA Convention appearance.
EXPLORE OUR DISPLAY
Our display is aproximately 60 feet long and contains hundreds of our most popular items. We will have our famous Rabbitech™ System set up so you can see first hand why it is the best selling wash-down system in the show world.
ORDER EARLY
We suggest ordering as soon as possible.Space is limited and we are unable to back order or ship if we run out of room or inventory. Our cut-off will be September 21st.
SHOW SPECIALS AND COUPONS
KW Cages will be offering specials beggining September 1st. Don't miss out on these amazing deals, some of which are once in a lifetime specials.
FREE SHIPPING
We will be sending two truck loads of products to the show. Be sure to get your order in to take advantage of free shipping.

Supporting The Big Show

OFFICIAL SPONSOR
ARBA Conventions are run largely by volunteers and limited budgets. KW Cages is one of few major companies to step up and contribute thousands of dollars in support of the Convention each year. Here are just a few of the things we are donating this year:
Offical 2017 Covnention Corporate Gold Sponsor
Youth ARBA T-Shirt and activities sponsor.
Official Sponsor of the Fibber Cup, Best In Show Perpetual Trophy
Official Corporate Sponsor of Rabbitcon Educational Conferences
Offiical Online Enties Corporate Underwriter
Best In Show $1000 Gift Card
Hopping High Jump $100 Gift Certificate
20,000 coop cards
ARBA R&D Raffle
Numerous National Specialty Club Raffles
Judges Aprons for Best In Show