How long will it take to get my order?
Current Processing Times:
Supply Orders: 95% of orders are
shipped in 1-3 business days.
Cages: 95% of orders are shipped in 2-5 business days.
Rabbitech and Aviaries: Allow 3-6 weeks.
Important Shipping Information: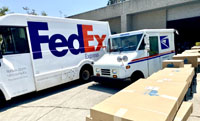 Some larger or customized orders may take longer depending on supply chain, and seasonal backlog—please plan accordingly.
Shipping times are approximately 1-5 business days. Selecting an expedited shipping method does not necessarily shorten processing times.
Cage assembly is only available for factory pickup or pick up at CA, AZ, NV, and OR shows only. All others are K/D ready to assemble.
We will send a tracking number once your order ships. Due to automation, it is not possible to change or cancel orders after being placed.

You have no items in your shopping cart.
Click here to continue shopping.
© 2021 KageWerks, Inc. All Rights Reserved.