Rabbit Shows
Road Show Schedule

KW Cages is off to another show!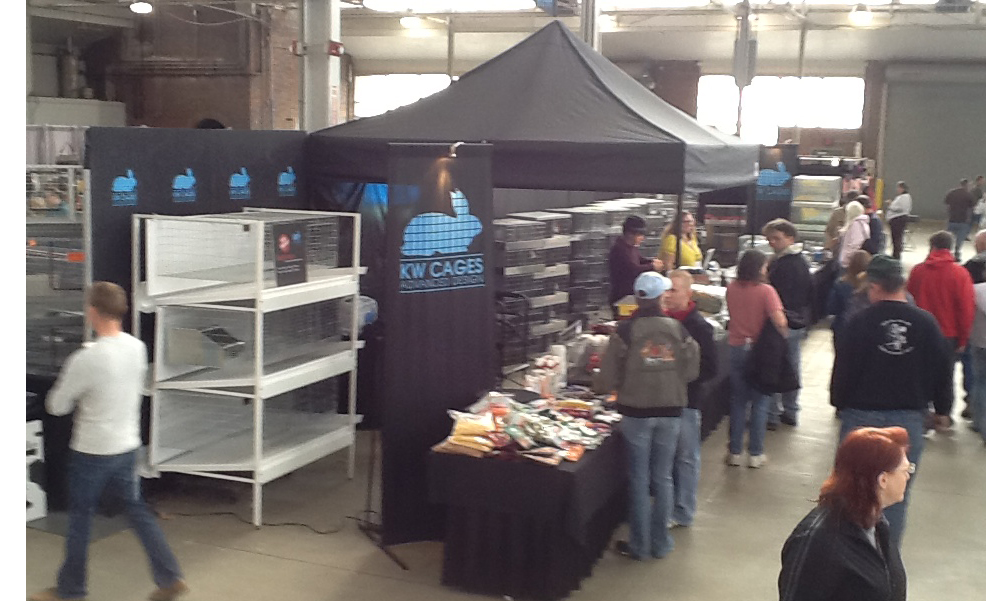 See the latest KW Cages designs and supplies at your local show.
Shop Show Supplies
Shop Rabbit Transport Cages
What is a Rabbit Show all about?
A wholesome hobby for the entire family:
Rabbit shows are an opportunity to travel with your rabbits (and family!) to different venues to show and learn about this amazing species. An activity with over one hundred years of history, rabbit competitons seek and reward the healthiest and best representatives of over 50 breeds of rabbits and cavys (guinea pigs.)

The animals, who like to travel and be handled, are judged against a Standard of Perfection published by the American Rabbit Breeders Association (ARBA). Established in 1910, the ARBA has a unified system of licensed judges and sanctioned shows in which to compete. Learn more about ARBA.
Note Regarding Assembly:
Order early for best selection and to ensure factory has enough time to build your order. Except for transport tages, all cages are shipped to the show knocked down ready to assemble. Factory preassembly is available for a nominal charge if specified when adding to cart Factory preassembly is not available for shipments to Florida shows due to space limitations.
Note Regarding Booth Hours:
Our display hours at the show may vary, however, plan to pick up your order between 9:00AM and 1:00PM.
Place your order for FREE delivery at the show!
After adding items to your cart, click on "View Cart" or "View All" in cart

Enter your zip code.

Click on "Estimate" to see a list of shows to choose from
Show List:
Arizona Shows

| | | | |
| --- | --- | --- | --- |
| DATE | LOCATION | SHOW | CUT-OFF DATE |
| 1/6/2018 | PHOENIX | ARIZONA STATE RCBA | 1/4/2018 |
| 2/17/2018 | KINGMAN | ARIZONA STATE RCBA | 2/14/2018 |
| 3/10/2018 | YUMA | ARIZONA STATE RCBA | 3/7/2018 |
| 5/26/2018 | TUCSON | SOUTHERN ARIZONA RBA | 5/23/2018 |
Northern California Shows

| | | | |
| --- | --- | --- | --- |
| DATE | LOCATION | SHOW | CUT-OFF DATE |
| 1/6/2018 | DIXON | SOLANO RBA | 1/1/2018 |
| 1/13/2018 | GRIDLEY | CALIFORNIA RABBIT & CAVY SHOWS | 1/7/2018 |
| 1/27/2018 | SANTA ROSA | CALIFORNIA RABBIT & CAVY SHOWS | 1/21/2018 |
| 2/3/2018 | STOCKTON | BIG VALLEY RA | 1/28/2018 |
| 3/3-3/4/2018 | TURLOCK | CALIFORNIA STATE RCBA | 2/25/2018 |
| 3/10/2018 | GRIDLEY | CALIFORNIA RABBIT & CAVY SHOWS | 3/4/2018 |
| 3/17/2018 | STOCKTON | CALIFORNIA RABBIT & CAVY SHOWS | 3/11/2018 |
| 4/7/2018 | AUBURN | MOTHERLADE RABBIT AND CAVY ASSN | 4/1/2018 |
| 4/21/2018 | STOCKTON | BIG VALLEY RA | 4/15/2018 |
| 9/15/2018 | STOCKTON | BIG VALLEY RA | 9/9/2018 |