ShowPro III Rabbit Show Program
Purchase New or Renewal License.
Runs on Windows and Macs! Download the leading software for managing a rabbit show. Runs under FileMaker 16 or later (sold separately)
Latest vesion includes: Multiple show sponsor suport (Individual License Only), Grouping, Best 6 Class, Best 4 Class, Reserve in Show,plus many pragram enhancemnts and refinements.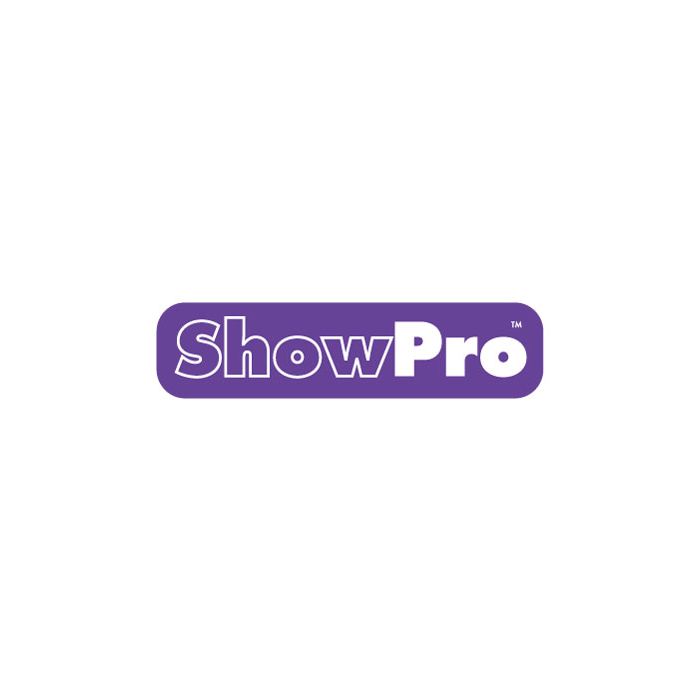 Note:
The ShowPro standalone (runtime) version has been discontinued. ShowPro now runs under Filemaker and you must have Filemaker 16 or higher running on your computer. ShowPro will then open and fully function.  Filemaker is a subsidiary of Apple Computer and is sold sperately through third-party resellers or can be found used on Ebay or other marketplaces. Showpro will run under educational versions or regular versions of Filemaker
Features:
Digital E-Legs
Automated Email Show Reports
Automated Email Club Reports
Automated Email Confirmations
Updated breeds and varieties
Improved Show Catalog creator
Import from last show
Much more!
Process shows quickly!
Mac and Windows Compatible
Pre-purchase questions and tech support, please contact ShowPro directly: [email protected]
Choose License Type:

Individual License
Use the software for as many different sponsoring clubs as you wish. Only one secretary name can be registered and shown on paperwork
Organization License
Use the software for as many different show secretary names as you wish. Only one sponsoring club name can be registered and shown on paperwork.
License Renewal
The initial Version 3.6 license is valid for two years. Annual renewals thereafter are required. Versions older than 3.6 require new purchase of version 3.6. 

NOTE: Licenses are limited to shows of up to 6,000 animals. Larger shows, convention, or online-entry capabilities must be contracted through ShowProgram.com and are not included in the above licenses.
Support:
Unlimited email technical support is provided for free. An initial 30 minute orientation by phone is available at no charge. Must be scheduled through: [email protected]
Once you have purchased the product , you will receive a download link. A registration code will be sent from ShowPro by email within 24-48 hours. 
System Requirements:
You must have Filemaker 16 or later software installed on your computer. 
Operating System*
Windows 10 Pro Edition
Windows 10 Enterprise Edition
Windows 8.1 Standard Edition
Windows 8.1 Pro Edition
Windows 7 SP1 Professional Edition
Windows 7 SP1 Ultimate Edition
macOS Sierra 10.12
OS X El Capitan 10.11
OS X Yosemite 10.10
*Version stated is the minimum requirement. FileMaker Pro may also work with later operating systems certified by FileMaker, Inc. Operating systems not listed in the table above have not been tested and are not supported.
Hardware Requirements
 
 
Minimum Requirements
Recommended Requirements
Windows
CPU: 1 GHz or faster x86- or x64-bit processor
RAM: 1 GB
CPU: 1 GHz or faster x86- or x64-bit processor
RAM: 2 GB or more
Mac
RAM: 2 GB
RAM: 4 GB or more
Screen Shots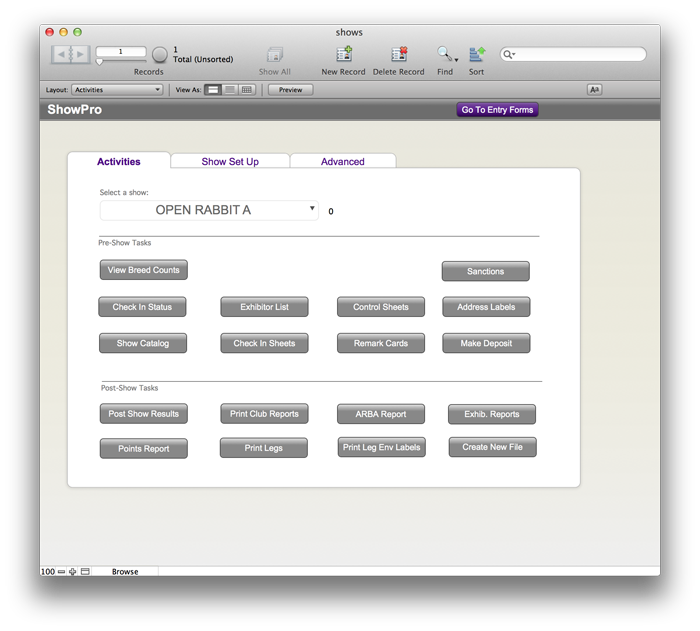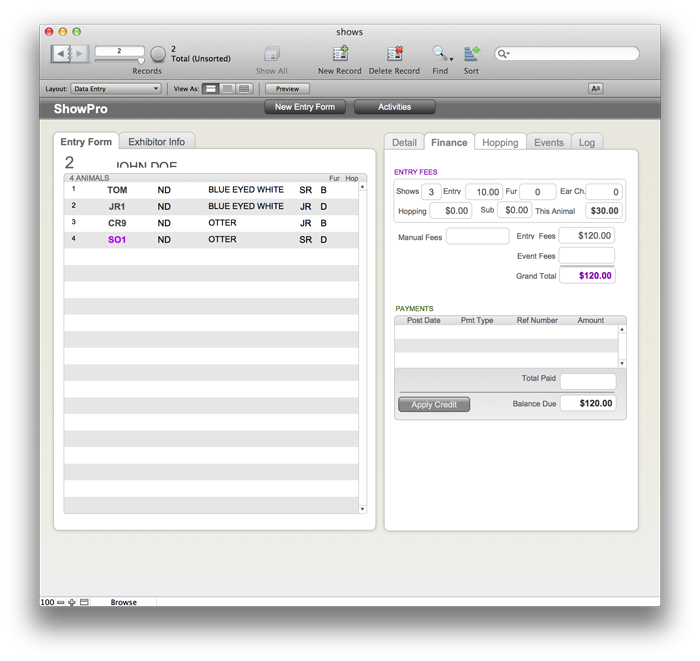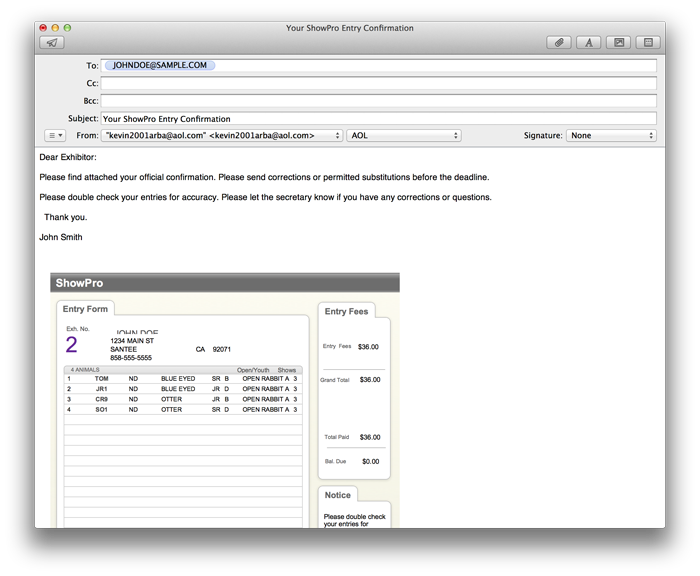 License Copyright, Warranty Disclaimer
KW Cages sells the software as-is, where is and all sales are final. There are no trial versions. Please make pre-purchase inquires from  [email protected] or if you have any questions about software, setup,  or comaptablity. Due to the nature of software, all sales are final.
ShowPro Warranty Disclaimer:
By purchasing this software, the user acknowledges the intellectual property rights that are protected by copyright and understands that a license to use such software cannot be returned or refunded. Different users have varying skill levels and hardware setups and no guarantee can be made on ease of use or ease of setup with a particular operating system.
DISCLAIMER OF WARRANTY: THIS SOFTWARE IS PROVIDED BY THE AUTHOR ``AS IS'' AND ANY EXPRESS OR IMPLIED WARRANTIES, INCLUDING, BUT NOT LIMITED TO, THE IMPLIED WARRANTIES OF MERCHANTABILITY AND FITNESS FOR A PARTICULAR PURPOSE ARE DISCLAIMED. IN NO EVENT SHALL THE AUTHOR BE LIABLE FOR ANY DIRECT, INDIRECT, INCIDENTAL, SPECIAL, EXEMPLARY, OR CONSEQUENTIAL DAMAGES (INCLUDING, BUT NOT LIMITED TO, PROCUREMENT OF SUBSTITUTE GOODS OR SERVICES; LOSS OF USE, DATA, OR PROFITS; OR BUSINESS INTERRUPTION) HOWEVER CAUSED AND ON ANY THEORY OF LIABILITY, WHETHER IN CONTRACT, STRICT LIABILITY, OR TORT (INCLUDING NEGLIGENCE OR OTHERWISE) ARISING IN ANY WAY OUT OF THE USE OF THIS SOFTWARE, EVEN IF ADVISED OF THE POSSIBILITY OF SUCH DAMAGE.
Notice:
FileMaker is a trademark of FileMaker, Inc., registered in the U.S.and other countries.
ShowPro is a trademark of ShowProgram.com
More Information

| | |
| --- | --- |
| SKU | 9994 |
| Weight | 1.000000 |