Rabbitech™ Manual Separator Bin
For all Rabbitech systems: Separate Droppings from water/urine when having a drain pipe is impractical
Buy 4 for

$61.79

each and save

20

%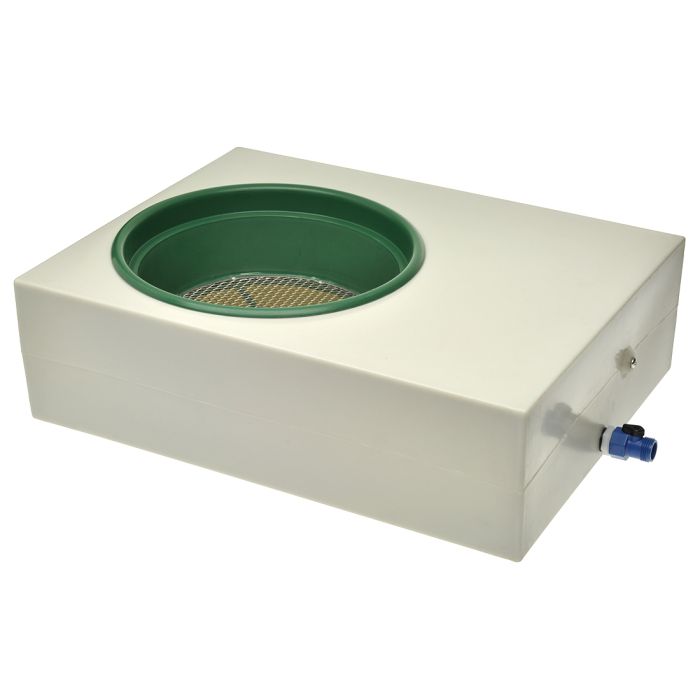 When you have a very limited number of animals and it is impratical to install a drain pipe to outside, this bin will assist with separating the droppings from the liquid.
Holds aproximately 15 quarts
Dimensions 18" x 24" x 7"H

Used for a small setup (up to 10 animals) or on a temporary basis when a floor drain or outside drain is not possible. The bin is placed under the down-drain to collect the waste. A stainless steel screen separates the rabbit's solid droppings from the water and urine. A standard garden hose can be attached to carry the excess liquid away. The solid refuse can be easily dumped into compost bin or trash.
Note: An outside drain (using an elbow to run 4 inch drain pipe through the wall) or a floor drain are the preffered methods of waste conveyance. Depending on the breed size, cleaning interval (daily is reccomended), and quantity of rabbits; it may be neccessary to wash down one level or part of one level to stay within the capacity limits of the bin.

Rabbitech™ represents the latest in advanced design from KW Cages. Its the high-quality workmanship, durability, and wash-down sanitation that make Rabbitech™ your best buy for successful rabbit raising.

Just one look at the Rabbitech™ system and you will be convinced that KW Cages has designed the ultimate in rabbit sanitation. And no matter what detail you like most - the powder coated H-frame, the steeply inclinedpoly washout with one piece molded drain, or the heavy galvanized wire enclosures - all are value-engineered to provide the most affordable rabbit care solution. All are ruggedly built to last, year after year.


More Information

| | |
| --- | --- |
| SKU | 5506 |
| Weight | 9.380000 |